#Podcast
Im neuen Startup-Radar-Podcast stellen wieder fünf Gründer:innen ihre Ideen vor. Freut euch auf Claym , DeskNow, Tiffin Loop, Fyppit und Insurfox. Die Gründer:innen haben jeweils 180 Sekunden Zeit, ihr Startup vorzustellen.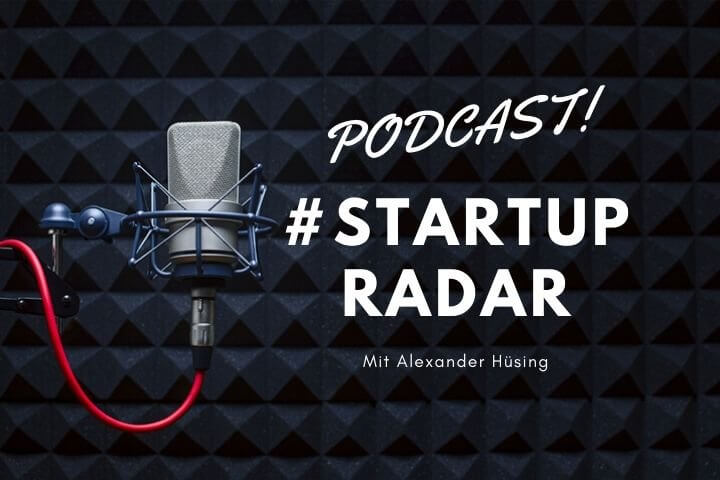 Freitag, 25. Juni 2021
Vonds-Team
Im Startup-Radar-Podcast, unserem Pitch-Podcast, stellen in jeder Ausgabe fünf Gründer:innen ihre Ideen vor. Die Gründer:innen haben jeweils 180 Sekunden Zeit, ihr Startup vorzustellen. Auf die virtuelle Pitch-Bühne treten diesmal Claym , DeskNow, Tiffin Loop, Fyppit und Insurfox. Und jetzt geht es auch schon los!
Startup-Radar #14 – Der Podcast
Abonnieren: Die Podcasts von deutsche-startups.de könnt ihr bei Amazon Music – Apple Podcasts – Castbox – Deezer – Google Podcasts – iHeartRadio – Overcast – PlayerFM – Podimo – Spotify – SoundCloud oder per RSS-Feed abonnieren.
Unser Sponsor
Die heutige Ausgabe wird präsentiert von Dell Technologies. Was viele vielleicht nicht wissen: Dell Technologies bietet kleinen Unternehmen und Startups über fachkundige Berater direkte Hilfe – telefonisch oder per Chat -, um die richtige und passende IT-Lösung zu finden. Die Bandbreite reicht dabei von Notebooks, PCs und Zubehör über leistungstarke Workstations bis hin zu Server-, Storage- und Cloud-Lösungen. Im Grunde also alles, was ein Satrtup so braucht! Gerade für Startups dürfe es zudem spannend sein, dass man alles sofort implementieren kann und erst später zahlen muss. Dell Technologies bietet Unternehmen bis zu 180 Tage Zahlungsaufschub auf alle Server- ,Storage- und Netzwerklösungen und bis zu 90 Tage Zahlungsaufschub auf alle Desktops, Notebooks und Workstations. Und auch bei der täglichen Arbeit bietet Dell Technologies Unterstützung: Mithilfe der ProSupport Suite überwacht Dell Technologies kontinuierlich eure IT-Landschaft, damit kostspielige Probleme gar nicht erst entstehen. Alle Infos findet ihr unter Dell.de/KMU-Beratung.
Startup-Radar #14 – Die Startups
Claym

Über das Hamburger LegalTech Claym können Nutzer:innen die "komplette Schadensregulierung nach einem Verkehrsunfall digital durch nur einen Ansprechpartner schnell und umfassend abwickeln lassen". Das Unternehmen wurde von Gordian Madsen gegründet.
DeskNow

DeskNow kümmert sich um die Untervermietung von Arbeitsflächen. "Dafür bietet DeskNow eine Software, mit der freie Büro- und andere Raumkapazitäten problemlos untervermietet werden", heißt es im Konzept der Jungfirma, die von Marius Jarzyna, Anca Barsan, Pavel Schwindt und Mike Lepcsik gegründet wurde.
Tiffin Loop

Das junge Berlliner Unternehmen Tiffin Loop, das von Mustafa Demirtas gegründet wurde, hat sich zum Ziel gesetzt, "den Take-Away-Markt in Deutschland mithilfe einer Mehrweglösung plastikfrei zu gestalten". Dabei setzt die Jungfirma auf Boxen aus Edelstahl.
Fyppit

Das Berliner Startup Fyppit, das von Harsha Jagasia, Tobias Lehmann und Andy Seto gegründet wurde, bietet einen Online-Marktplatz an, bei dem Kundinnen und Kunden "Waren direkt von ihren lokalen Geschäften mit Lieferung am selben Tag bestellen können".
Insurfox

Das junge Hamburger InsurTech Insurfox kümmert sich um B2B-Versicherungen. Dabei fokussieren sich die Hanseaten auf die Mobilitäts-, Transport- und Logistikbranche. Das Startup verspricht dabei: "No paperwork. No waiting. All online. Welcome to a simpler way to get the insurance you need".
Startup-Radar als Newsletter
In unserem Newsletter Startup-Radar berichten wir einmal in der Woche über junge, frische und brandneue Startups, die noch nicht jeder kennt. Alle diese Startups stellen wir in unserem kostenpflichtigen Newsletter kurz und knapp vor und bringen sie so auf den Radar der bundesweiten Startup-Szene und im besten Fall auf die Agenda von Investoren, Unternehmen und potenziellen Kooperationspartnern. Jetzt unseren Newsletter Startup-Radar abonnieren!
Startup-Jobs: Auf der Suche nach einer neuen Herausforderung? In der unserer Jobbörse findet Ihr Stellenanzeigen von Startups und Unternehmen.
Foto (oben): ds